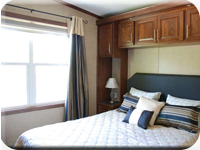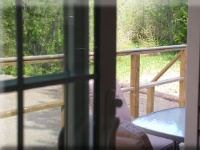 The Richmond Park Model
The Richmond is a new Park Model cabin with master bedroom and a second private bedroom/den. A beautiful 480 square foot luxury 'cabin' that sleeps up to 6 persons on a serviced pad now available for your all season vacation or holiday rental.
Fully equipped with queen bed in a bedroom next to the bathroom, an entertainment den with a double sofa-bed (featuring sliding divider privacy doors) and also a queen sofa bed in the living area for extra guests. Our cabins all have full-sized kitchens with fridge, propane ranges, microwaves and all utensils, cutlery and dishes so you can truly prepare, cook and serve your own meals like you would at home.

Click images below to enlarge
Drive, take the bus or fly to Castlegar (daily flights from Calgary or Vancouver) and tour the Kootenays from here (Slocan Valley, Trail, Rossland, Salmo, New Denver, Sandon (ghost town), Kaslo, Ainsworth Hot Springs, Balfour, Nelson) then come home to a relaxing evening with friends or just watch TV on your HD wide-screen theatre, turn on the electric fireplace and just relax. No hustle-bustle or street noise outside your door just quiet wooded space where you can hear yourself think.
When it's time to eat, you can explore the many fine restaurants Castlegar has to offer or just stay home and whip up some of your personal favourites right in your well equipped kitchen. This Park Model has a gas range, full size electric refrigerator, microwave and all the dishes. pots and pans you could need.
Meals are served in 4 place eating area on the expandable table looking out over our quiet bull-rush laden creek. The unit is set on a pad in our South Park area located across the creek in the quietest area of the park


You can park your vehicle right outside your door. Relax with friends or family on our 24 x 8 ft deck equipped with patio table and lounge chairs. The unit is non-smoking but if you do need to light up, the porch area will provide an open-air area for your pleasure. NOTE: We do not allow pets in the Park Model Cabins.
This luxury unit has a 4pc bathroom complete with toilet and sink,shower/ tub and features a 25 gal. electric hot water tank so you can soak to your heart's content. The den area can be closed for privacy and has a double sofa-bed.(left)
At 40′ long and 12′ wide, this Richmond Huron Ridge Park Model provides the spaciousness that you rarely find in a motel or hotel room at any price .. and the freedom from traffic and train noise is well worth the 5 minute drive from the centre of town.